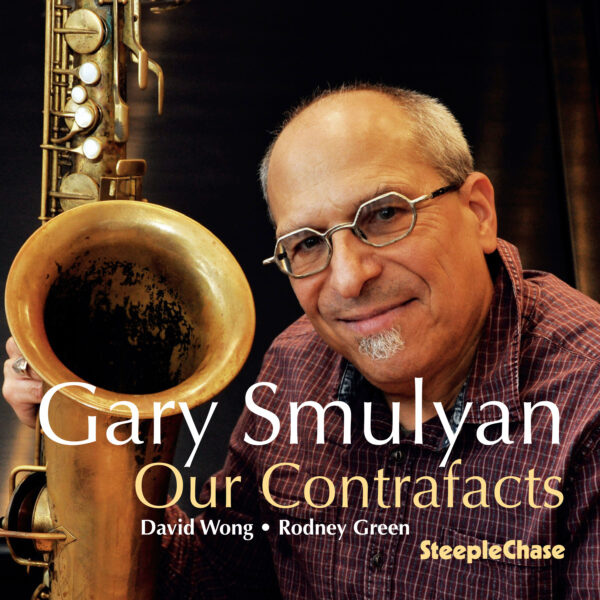 ---
A contrafact is a method of composing a new melody and arrangement on a pre-existing musical composition using its chord progression. In jazz, one of the most famous examples is "Hot House" (Tadd Dameron) based on "What Is This Thing Called Love?" (Cole Porter). Baritone saxophonist Gary Smulyan has been intrigued by this particular way of composition for a number of years. His first album on SteepleChase last year SCCD 31844 "Alternative Contrafacts" is a superlative example of his interest. Here on this new release "Our Contrafacts" is a collection of new contrafacts by contributed by each member of the trio.
The idea of superimposing new melodies and lines on chord progressions has been around since Tadd Dameron turned Cole Porter's "What Is This Thing Called Love" into the bebop staple "Hot House" and Bird tweaked Gershwin's "I Got Rhythm" into "Moose the Mooche." Smulyan follows suit with Our Contrafacts, a sequel to his 2018 SteepleChase date, Alternative Contrafacts. The formula is the same and the playing is similarly fantastic.
In a stripped down trio setting with drummer Rodney Green and bassist David Wong, Smulyan offers new ideas on old themes, conveying them in bold, expressive tones on his baritone saxophone. "Drink Up," a hip stop-time riff on "Angel Eyes," has the leader blowing with gusto and bluesy, hard-boppish authority. On an energized romp through "Homebody," based on "You'd Be So Nice To Come Home To," Smulyan and Wong go toe-to-toe on the chops-busting Tristan-like line, with the bassist demonstrating some impressive arco work and Smulyan unleashing some of his most potent soloing of the program.
Listeners can play their own guessing game in regard to contrafacts' sources while savoring those deep, robust tones and double-timed lines from Smulyan's horn along the way.
— Bill Milkowski, Downbeat
"Last time Gary Smulyan led a trio on a set of contrafacts (the name for new melodies built on chord progressions of well-known compositions), the bari sax master drew from existing pieces written 60 years ago or so. That was then, on 2018's Alternative Contrafacts. This time, Smulyan again brings bassist David Wong and drummer Rodney Green along, but all the tunes are new and penned by the disc's players. It's an invigorating jaunt through familiar-feeling music opened up with inventive themes and uniformly superb playing … The music throughout benefits from an open, airy feel, and the lack of chordal instruments lets listeners savor Smulyan's big, gritty tone and agile improvisations. A real treat."
— Philip Booth – JazzTimes
"A contrafact, a longtime jazz convention, is an original melody superimposed over the chord progression of a preëxisting song. If, in the course of listening to "It Happens," from the baritone saxophonist Gary Smulyan's intriguing album "Our Contrafacts," you find yourself humming Michel Legrand's "Watch What Happens," well, you've got the idea. Smulyan, a mainstream master of the big horn, has devoted previous albums to contrafacts composed by others; here, he and his sterling associates, David Wong on bass and Rodney Green on drums, contribute their own clever adaptations, which provide fertile terrain for improvisation—invention upon reinvention, as it were."
— Steve Futterman, The New Yorker
"While there are occasional short solos by Wong and Green, the focus throughout is on Smulyan, who has yet to record an unworthy record or play an uninspired chorus. His passionate sound and fresh ideas make Alternative Contrafacts a set well worth picking up, particularly by straight ahead jazz collectors."
— Scott Yanow – NYC Jazz Records (on SCCD 31844)
Personnel
GARY SMULYAN – baritone saxophone
DAVID WONG – bass
RODNEY GREEN – drums
Recorded April 2019
Tracklist
QUARTER BLUES (Rodney Green) 8:39
DRINK UP (Gary Smulyan) 6:10
HOMEBODY (Gary Smulyan) 7:41
IT HAPPENS (Rodney Green) 5:43
MILES TONES (Gary Smulyan) 7:30
GOOD RIDDANCE (Gary Smulyan) 8:11
HOW DEEP (David Wong) 4:55
TRITONIOUS MONK (Gary Smulyan) 6:47
WHAT'S HER NAME (David Wong) 4:20
SOURPUSS (Gary Smulyan) 6:24