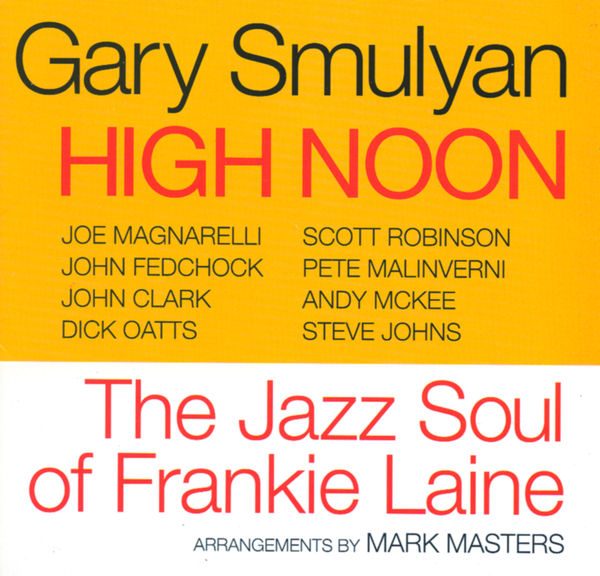 ---
During the first two decades after the Second World War, a time when good singing was popular and popular singing was good, Frankie Lane was one of the most beloved vocal stars of them all. Starting in 1947 with his first big record for the Mercury label, THAT'S MY DESIRE, Laine maintained a nearly continuous twenty-plus-year residence on the pop charts, amassing soe two dozen Gold Records with three Number 1 hits in the US, and four more in the UK.
Still, even to his most ardent enthusiasts, a jazz tribute to this pop icon might seem a bit of a stretch. But not to baritone saxophonist Gary Smulyan. "I've always thought he was really soulful. A lot of people kind of pigeon-hole him. They say he sang all those country and western tunes and made pop records. But he did a great jazz record in the 1950s. And then I found out that he wrote tunes, as well. As a lyricist, he worked with some great people like Hoagy Carmichael and Matt Dennis – and sometimes he wrote the music himself."
At this point, arranger Mark Masters, another Frankie Laine partisan, entered the picture. "Gary called me about four years ago," Mark recalls, "and he said 'How about "The Jazz Soul of Frankie Laine?"' And I said, "Why Not?" Frankie Laine was still living at the time, so I talked to a lady who managed the office for him and asked her if she could look in their files for whatever lead sheets they had of tunes he had either authored or co-authored. And she said they didn't have anything. Then I talked to his manager. He didn't have anything. But I have a friend, Bertrand Uberall, who does a lot of research at the Library of Congress, so I asked Bertrand to look into what they might have. And he found between 80 and 100 lead sheets with Frankie Laine's name on them – a lot of good songs."
– From the Liner Notes
TRACK LISTING:
I'd Give My Life
High Noon
Torchin'
It Only Happens Once
Baby, Baby All The Time
When You're In Love
Put Yourself in My Place, Baby
A Man Ain't Suppose To Cry
That Lucky Old Sun
We'll Be Together Again
Arrangements by Mark Masters
Recorded at Avatar Studios, NYC on April 19, 2008
Recording engineer: Jim Anderson
Assistant Engineers: Brian Montgomery & Akihiro Nishimua recording session)
Justin Gerrish (mixing session)
Mastering: Allan Tucker at Foothill Digital, NYC
Design: B. Robert Johnson
Photography: Ron Teeples
Producer: Mark Feldman
Executive Producer: Kayla Feldman
Special thank you to Bertrand Uberall
Mr. Smulyan uses Vandoren Reeds exclusively
Personnel:
Gary Smulyan – baritone saxophone
Joe Magnarelli – trumpet
John Fedchock – trombone
John Clark – french horn
Dick Oatts – alto Saxaphone
Scott Robinson – tenor & soprano saxophones, bass clarinet
Pete Malinverni – piano
Andy Mckee – bass
Steve Johns – drums
High Noon Reviewed by George Fendel
I know there are those of you who remember the singer Frankie Laine. Although hits like "Mule Train" and "Jezebel" had little jazz content, Laine was jazz hip, and also a very adept composer. It is in the latter arena that Gary Smulyan has mainly celebrated his music. In doing so, he gathered some of Gotham's busiest cats: Joe Magnarelli, trumpet, John Fedchock, trombone, Dick Oatts, alto sax, and Pete Malinverni, piano. Smulyan also struck a chord of genius in hiring Mark Masters to arrange. Masters, with several celebrated albums under his own name, is one of the best at arranging for ensembles of this size (nine pieces). All shine on non-Laine fare like the title tune, "High Noon." All the remaining selections were either Laine's compositions or collaborations. It's a nice tribute to an artist who has faded from memory somewhat. It makes me think Gary Smulyan is always thinking about worthy thematic material. And in this case, he's hit the jackpot with great colleagues and fresh, invigorating arranging.