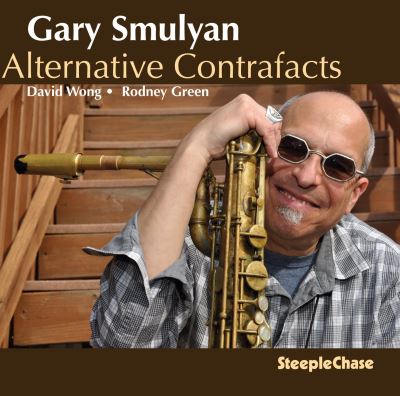 ---
Baritone saxophonist Gary Smulyan brings here his trademark "contrafacts" (a music making method that shares the chord progressions with other compositions) approach to this first SteepleChase leader outing challenging us (maybe?) to guess the tunes he is employing.
TRACK LISTING:
Vodka (Mal Waldron)
Deep People (Jimmy Guiffre)
Tale of the Fingers (Paul Chambers)
Cohn Pone (Al Cohn/Nick Travis)
Moodamorphosis (Gil Fuller, Dave Burns)
Ahma See Ya Ted Curson)
I've Changed (Gary Smulyan)
On the Minute (John Eardley)
Hanid (Coleman Hawkins) 7:35
MUSICIANS:
Gary Smulyan – baritone saxophone
David Wong – bass
Rodney Green – drums
Recorded April 2017
REVIEWS:
JazzTimes
When Bird and Diz took the chords of popular songs like "I Got Rhythm" and "Cherokee" and wrote new melodies over them, people called it bebop. Baritone saxophonist Gary Smulyan opts for the concept's jazz-education name of "contrafacts." This trio album brings together eight lesser-known examples of the practice from the late '40s through the early '60s—including such "alternatives" to the bop classics as Mal Waldron's "Vodka," Ted Curson's "Ahma See Ya" and Coleman Hawkins' "Hanid"—along with one of Smulyan's own contrafacts, "I've Changed."
The erudition displayed in Smulyan's deep-cut choices is just as clear in his playing. His best solo comes on Gil Fuller and Dave Burns' "Moodamorphosis," a sustained feast of brilliantly interconnected ideas. The rhythm section adds special luster to Paul Chambers' "Tale of the Fingers," with bassist David Wong giving his bow a workout and drummer Rodney Green trading scintillating eights and fours with Smulyan. Tempos and rhythmic feels don't vary much from medium swing, but the musicians find new twists where they can. On Jimmy Giuffre's "Deep People," for instance, they all leave lots of holes in their parts; each player's role in relation to the beat—who's keeping it, who's playing off it—changes from second to second.
If you're not familiar with these tunes but still want to try identifying the sources from which they sprang, your harmonic detective work will be complicated by the fact that there's no chordal instrument present. This makes it harder to tell what changes the musicians are hearing in their heads, and easier for them to veer away from those changes whenever they like. You may as well set your analytical mind on other tasks and just enjoy the buoyant vibes, of which there are plenty.
— Mac Randall
Dusty Groove
Fantastic work from Gary Smulyan – a baritone saxophonist who may well be one of the few really standout players on his instrument these days – working in a legacy that puts his mighty talents right up there with Pepper Adams, Serge Chaloff, and a rare few others who could really make the baritone swing! Smulyan plays here in just a trio – David Wong on bass and Rodney Green on drums – and the tracks are long, flowing, and open – really illustrating Gary's strength as a soloist, and his deft imagination on an instrument that doesn't easily give itself to some players. The song list is great, too – titles by Ted Curson, Al Cohn, Mal Waldron, and Jimmy Giuffre – plus one tune by Gary too. Titles include "Ahma See Ya", "Vodka", "Deep People", "Cohn Pone", "Tale Of The Fingers", and "Hanid".
Dusted
Baritonist Gary Smulyan takes pains to make plain that the title of his debut for Steeplechase isn't meant as a political statement. The intent the behind the project is so solid and arable one can almost believe him save for the knowing smirk gracing his countenance on the cover as tell to his satisfaction with the pun. Alternative Contrafacts works either way, as a clever riff on Kellyanne Conway's laughable attempt at normalizing state-sanctioned obfuscation or an investigation of a tributary of jazz composition that's been less traveled in recent years. Absent a strict chordal driver amongst the instrumentation, the practice of hanging new melodies on established chord progressions might appear a counter-intuitive. Smulyan's sound choice of bassist David Wong and drummer Rodney Green as flexible associates shores up any doubts surrounding the quality of the exercise.
Two earlier albums by Smulyan explore analogous territory, but this is the first to carry a formal dedication to a chief source of inspiration. Pianist and psychiatrist Maurice Markewich authored a tome on contrafacts in 1970. Several decades later, Smulyan happened upon a copy and it quickly became his bible on the subject supplemented by regular conclaves with Markewich. Indexed by standards and their associative contrafacts, it's formed the basis of Smulyan's work in this area and directly informs the nine pieces in this program, eight of which are picked especially for their obscurity. Not coincidentally, puns play a prominent part in several of their titles as well strengthening the claim that word play is sometimes as important to the experienced improviser as its musical counterpart. Wong and Green weave pliable webs beneath and around the leader, but Smulyan seems undaunted working mostly without a net.
Associative antecedents for the pieces are named in the notes, but Smulyan first makes it clear that those listeners up to the challenge should attempt identifications sans assistance. Mal Waldron's "Vodka", built from the chordal kernels of Jerome Kern's "Yesterdays" makes for a mellow opener with the leader blowing at length over an undulating beat of thrumming bass and swirling cymbals. Jimmy Giuffre's "Deep People" commences with Green remaining silent during the theme statement and limiting himself largely to ride cymbal even after entry, the skeleton of the Gershwin standard "A Foggy Day", still visible in the contours the three players traverse. Bassist Paul Chambers' "Tales of the Fingers" features some sterling arco work by Wong and precision brushes by Green while "Cohn Pone", arguably the most egregious of the pun offenders and itself an Al Cohen-configured variation on "Get Happy" taps a comparable degree of congeniality.
Big horn safaris conducted in this sort of pared down setting are relatively few. The surfeit of muscle in Smulyan's central conceit pushes the session over into the nigh essential and the consistently swinging presence of Wong and Green only add to the value. Stock in alternative facts is on the rise in societal discourse, but the honesty and integrity inherent to this trio's creative expression offers a cogent musical counterweight and is certainly worth the requisite samolians to secure.
— Derek Taylor